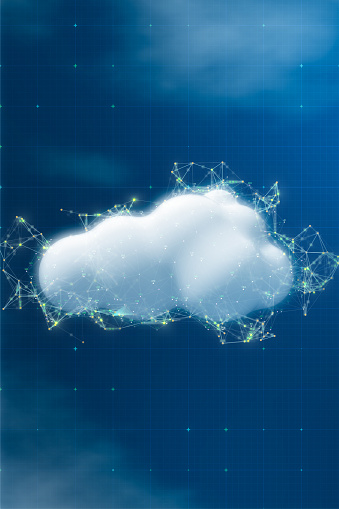 As the Internet of Things continues to grow, cloud computing has great potential to continue driving technological advances. Cloud computing was born in 2007, after 14 years of development, to help the technological revolution. You may have noticed in recent years that cloud computing has expanded beyond simple storage services such as iCloud and Google Drive. These features include IaaS, PaaS, and SaaS.
So what are IaaS, PaaS, SaaS, and how do they play an important role in cloud computing? First, let's look at the definition of cloud computing.
Cloud computing
Cloud refers to a shared pool of configurable computing resources. It plays a vital role in integrating computing resources and automating management through online platforms. This means that cloud users can reduce labor costs while achieving resource efficiency.
Cloud computing means more in business. Like all other commercial resources, computing resources have become available for purchase and flexible through resource pools. Their low price also makes them the first choice for software developers or engineers.
Cloud computing has three layers, namely, Infrastructure-as-a-Service (IaaS), platform-as-service (PaaS), and software-as-service (SaaS). I'll cover them in more detail below.
Layers of cloud computing
To illustrate the three-tier concept of cloud computing, let's start with an example introduced by Albert Barron, IBM executive software client architect.
Let's say you're a caterer trying to open a pizzeria and want to make pizzas by hand, from start to finish. However, the complexity of preparation can be stressful. Therefore, you decide to outsource some of your work to reduce the workload. Now, you have three plans:
IaaS
The outsourcer provides you with kitchen, oven, gas and other resources. You can use that infrastructure to make pizza.
PaaS
Projected infrastructure; The outsourcer also provides you with pizza crust. All you have to do is sprinkle the ingredients over the crust and let the outsourcer bake it for you. In other words, once you customize your requirements, the cloud platform will help you implement them.
SaaS
The outsourcer has already prepared the pizza for you without your involvement. You can wrap them and print your logo. Then, all you have to do now is sell them.
If we map pizza production to system processes, we can easily see the difference between IaaS, PaaS, and SaaS.
As you can see from the above, the workload is significantly reduced during the service application. IaaS > PaaS > SaaS
The underlying
Simply put, IaaS is the underlying layer of cloud services that provide essential resources. Examples include Amazon EC2, Microsoft Azure, Rackspace, etc. Users can install any operating system or other software on the infrastructure, except that the infrastructure cannot be changed. However, the installation and use process is relatively complex and the maintenance cost is high. Users need to control the underlying layer to implement the infrastructure usage logic.
run
PaaS provide runtime, simplify hardware and operating system details and scale seamlessly. Developers should only focus on their own business logic, not the underlying logic. Platforms such as Google App Engine and AWS Elastic Beanstalk demonstrate this feature well. Generally speaking, PaaS refers to operating software built to update the cloud for users. Users only need to download and install the software they need on the platform.
Release the worries
SaaS means leaving the development, management, and deployment process to the outsourcer, removing concerns about technology issues. All resources provided are readily available. The average user encounters almost all Internet services as SaaS, such as Facebook, Twitter, And Instagram. Its advantage is that the efficiency of resource utilization can be highly optimized. All applications, such as the operating system, have been deployed on the cloud platform. Users can log in to the cloud platform without performing other operations.
All in all, what IaaS, PaaS, or Saas can do is make our work and life easier. Therein lies the charm of technological progress. In the world of cloud computing, information and technology can be shared. Even if you don't have a maintenance person who specializes in the cloud computing industry, cloud computing's multi-choice service platform makes it easy for you to use its full capabilities. This advanced technology can help reduce the workload of digital transformation.