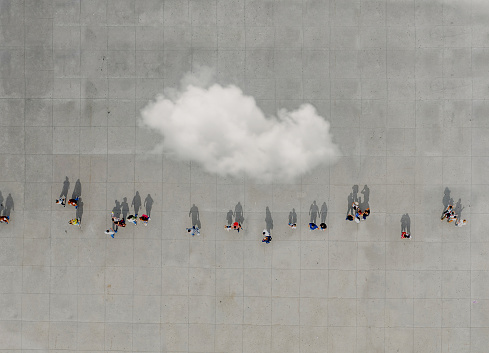 Global spending on public cloud services will approach $500bn this year.
The increasing popularity of cloud-native infrastructure services was identified as one of the key drivers, but the trend towards hybrid work scenarios driven by the pandemic also played a role.
Gartner predicts that spending on public cloud services will grow 20.4 percent to $494.7B this year, and the researchers believe this growth rate will continue through 2023, reaching nearly $600B next year.
These numbers come from Gartner's "Forecast: Global Public Cloud Services 2020-2026, updated Q1 2022," which is available to subscribers only.
The highest growth in spending is expected to be attributed to demand for cloud-based infrastructure services or IaaS, which Gartner expects to grow by more than 30% to $119.7b in 2022. It will be followed by desktop as a Service (DaaS), which Gartner attributes to a 26.6% increase in the shift to hybrid work and organizations' shift to this approach of providing client-side computing environments for their employees.
According to Gartner research vice President Sid Nag, the increase in public cloud spending is partly due to growing enterprise demand for higher-priced, more complex cloud-native services.
"Cloud-native features such as containerization, database platform as a Service (dbPaaS), and ARTIFICIAL intelligence/machine learning contain richer capabilities than commoditized computing such as IaaS or Web as a service," Nag said. "As a result, they are generally more expensive, which drives spending growth."
But while infrastructure and DaaS are expected to have the highest growth rates, Gartner's forecast for actual spending levels paints a different picture: The largest share of total spending is still expected to be cloud hosted applications (SaaS) at $176.6B, followed by infrastructure services (IaaS).
The third highest expenditure in 2022 is expected to be for application infrastructure services, commonly known as platform as a Service (PaaS), at $109.6B. Despite the rapid growth, Gartner expects overall cloud desktop (DaaS) spending to reach just $2.60 this year, which is actually the lowest figure in its identified segment.
Gartner said it expects a "steady pace" in cloud-hosted applications as organizations take multiple approaches to markets such as the cloud market, and it believes growth will come from customers breaking larger single applications into a larger number of smaller component services to drive more efficient DevOps processes.
At the same time, Gartner notes that as technologies such as Secure Access Service Edge (SASE) begin to disrupt adjacent markets, new product categories are opening up, and the focus of differentiation shifts to capabilities that can directly disrupt an enterprise's digital business and operations, according to Nag.
"IT leaders who see the cloud as an enabler rather than the end state will have the most success in their journey of digital transformation," he said, adding: "Organizations that combine the cloud with other neighboring emerging technologies will fare better."