We all know that we need to protect our company from unauthorized or unwanted access. It would help if we had a network security tool that examines the flow of data packets in and out of the enterprise, governed by rules that decide whether that flow is safe. Hence, let's check out the top ten firewall software of 2020 :

1.COMODO Firewall
Comodo Firewall is a freemium Internet security suite that includes an antivirus program, personal firewall, sandbox, host-based intrusion prevention system, and Website Filtering. It is easy to install, set up and use, and most importantly it's free.

2.PC Tools Firewall Plus
PC Tools Firewall Plus sits between our computer and our Internet connection. It helps to control downloading and uploading traffic, and it also warns us whenever it detects unexpected Internet access or traffic in either direction.
PC Tools Firewall Plus is surprisingly easy to use. We can start right away, without having to configure anything that's user friendly for beginners. They will also be happy to see that the basic functionality of PC Tools Firewall Plus can be tweaked in terms of approved or blocked programs in the Applications area.

3.ZoneAlarm Firewall
The ZoneAlarm Firewall protects our computer from most of the internet threats. ZoneAlarm Firewall defines three security zones - Trusted, Public, and Blocked. By default, the Public Zone works in High-security mode, and the Trusted Zone works in Medium security mode:
-High-security mode for Public Zone lets us connect to network resources, but prevents other unauthorized network users and computers from accessing the resources on our laptop and compromising our computer protection. Unknown networks and most wireless networks, even secured wireless networks, should be in the High-security Public Zone.
-Medium security mode for Trusted Zone protects our computer from possible attacks on Windows networking services but lets us share resources with other processors on the network. Networks we know and trust, such as our home or business LAN and known protected wireless networks, should go into the Medium security Trusted Zone.
-Blocked Zone - contains computers and networks that we distrust. No traffic to or from this zone is allowed.
The ZoneAlarm Firewall is on by default as soon as we install ZoneAlarm software. We do not need to do any further action unless we want to change the default configuration or turn it off temporarily.

4.Agnitum Outpost Firewall Free
Looking for a full-featured firewall that's both effective and free to use? Look no further than the Agnitum Outpost Firewall Free. This firewall software solution goes above and beyond what the Windows firewall is capable of and allows us to control the activity of installed programs. We are abe able to dictate what applications are granted network access and which aren't.
To safely use the Internet, we need a good firewall that's more robust than the Windows stock firewall. The Agnitum Outpost Firewall Free can bridge the gap between careless Internet access and adequate firewall protection.
One of the most considerable advantages of Agnitum Outpost Firewall Free is that it's free to use. It's fully functional and keeps your PC protected from unauthorized programs and internet access. It also shows which programs we are running that are accessing the Internet—setting up the Rules Wizard to run for a full week and make rules for the applications that frequently access the Internet. By having this Wizard on autopilot, we can secure all of our favorite programs and allowed them to access the Internet without interruption.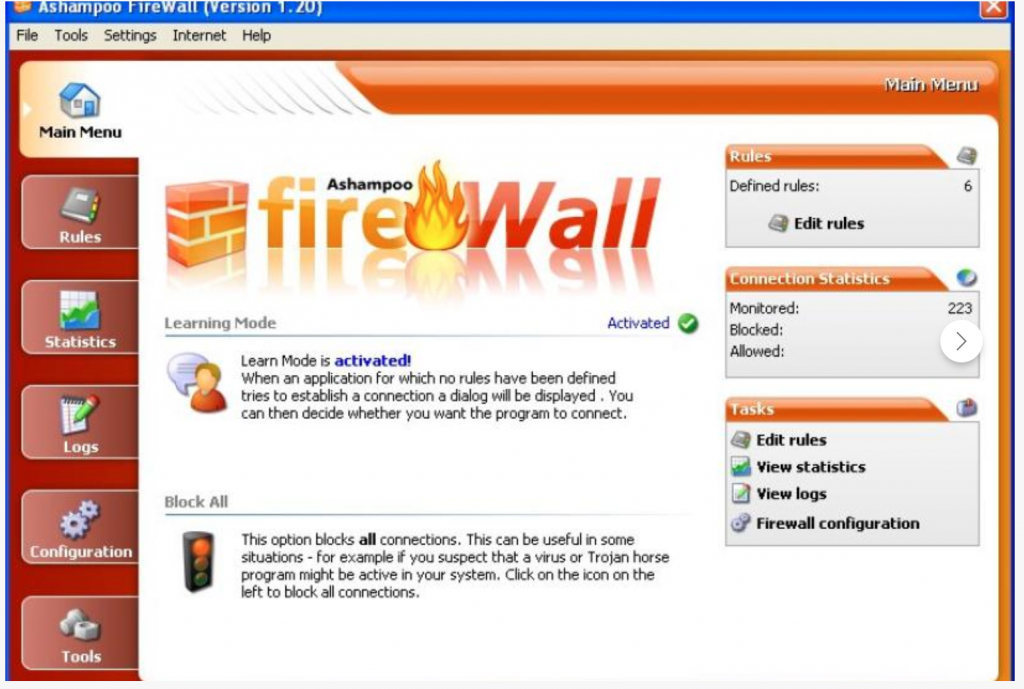 5.Ashampoo FireWall FREE
If we don't have a degree in computer science or technology management, using a firewall program can be quite frustrating. In addition to all the confusing jargon, current firewalls are getting to be massive programs. Sometimes we feel that we are installing an entire office suite instead of a necessary network tool.
The Ashampoo FireWall is different. Its Configuration Assistant guides us through every step of the simple setup process. Further, Easy Mode makes using it a breeze – we don't need any specialized technical knowledge, and it is very user friendly.
Ashampoo FireWall is also amazingly compact. Even with its four additional security tools, it's a small program that uses very little memory and computer resources. We get the heavy-duty protection without heavyweight overload on our system.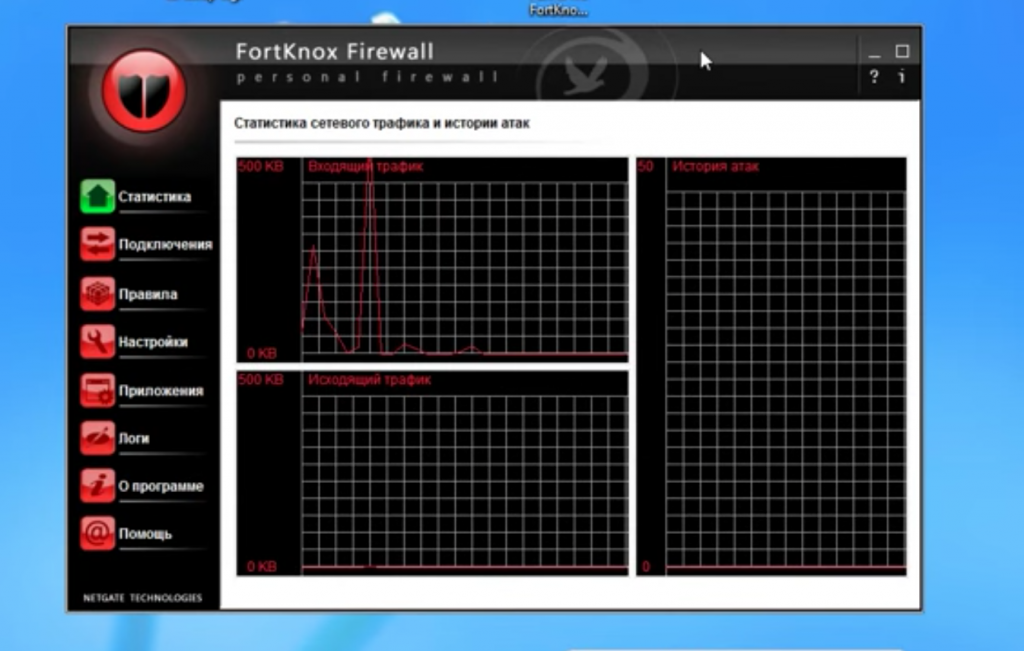 6.FortKnox Personal Firewall
FortKnox Personal Firewall provides configurable protection against Internet threats and other types of malicious attacks.
This firewall enables us to have a comprehensive overview of all network communications from the app's intuitive UI with in-depth details about connections that include IP, domain, MAC address, and more. We can block connections, terminate processes, perform a traceroute or WhoIs lookup, and view a detailed traffic log easily.
FortKnox Personal Firewall has support for extended application rules that allow us to control precisely how individual applications communicate over the Internet. Besides, it includes the option to extended setup rules tailored to our own needs.

7.Private Firewall
Privatefirewall is an integrated desktop firewall, and multi-layer intrusion prevention software delivers signature-less, zero-hour protection from known or new spyware, viruses, hacking techniques, and other intrusions on Windows desktops and servers.
Privatefirewall is comprised of several distinct protection layers, including desktop firewall, port manager, URL filtering, process monitor, and application/system behavior modeling and anomaly detection components. Privatefirewall 5.0 evaluates WinAPI calls and analyzes a comprehensive list of system variables and security-sensitive registry keys and alerts administrators to possible malware, attack, or policy violations.
Privatefirewall layered approach to PC and enterprise endpoint defense addresses the Windows vulnerabilities that hackers exploit to gain unauthorized system access and damage private systems and data.
Privatefirewall models and monitors system behavior to identify and block activity characteristic of known malware, hacking, phishing, and other threat types so that personal computer users and IT managers within the small, medium or large organizations can more effectively and proactively protect the environments and private data for which they are responsible.
Internet and network security settings, untrusted web sites and IPs, and how software applications and related processes can access the Internet can be easily configured via Privatefirewall intuitive management console.

8. Online Armor FREE
Online Armor Free is a lightweight Windows application to detect and remove spyware, Trojans, and other phishing attacks. The utility works by studying installed programs' behavior, and if it detects something suspicious, it immediately warns us or blocks that program from operating. Afterward, it verifies this behavior alongside its database of threats to find exactly what it is.
The system security tool displays a warning message if it detects a potentially malicious program. However, Online Armor Free evades overwhelming users with a large number of alerts. When you initiate it for the first time, it allows you to define a white list of safe programs.
Apart from this primary function, the latest antivirus software for PC also includes a firewall and other tools to detect unauthorized executable files, Trojans, and email protection.
Once we have downloaded the firewall software for Windows, we are required to set up its configuration. We can enable it to believe everything found by the wizard on our system automatically. If we allow it, we don't have to confirm any action manually.

9.Sunbelt Personal Firewall
Protect us from hackers. Secure the PC with a 100% free firewall download. Sunbelt Personal Firewall (SPF), previously known as Kerio Firewall, was called "our favorite" by PC Magazine. The followings are the cons of Sunbelt Personal Firewall :
-Supports Windows XP and Vista
-Filters both ingoing and outgoing traffic!
-Keeps hackers out and your private info inside.
-Works great with VIPRE Antivirus + Antispyware
-Easy to use and does not slow down your PC!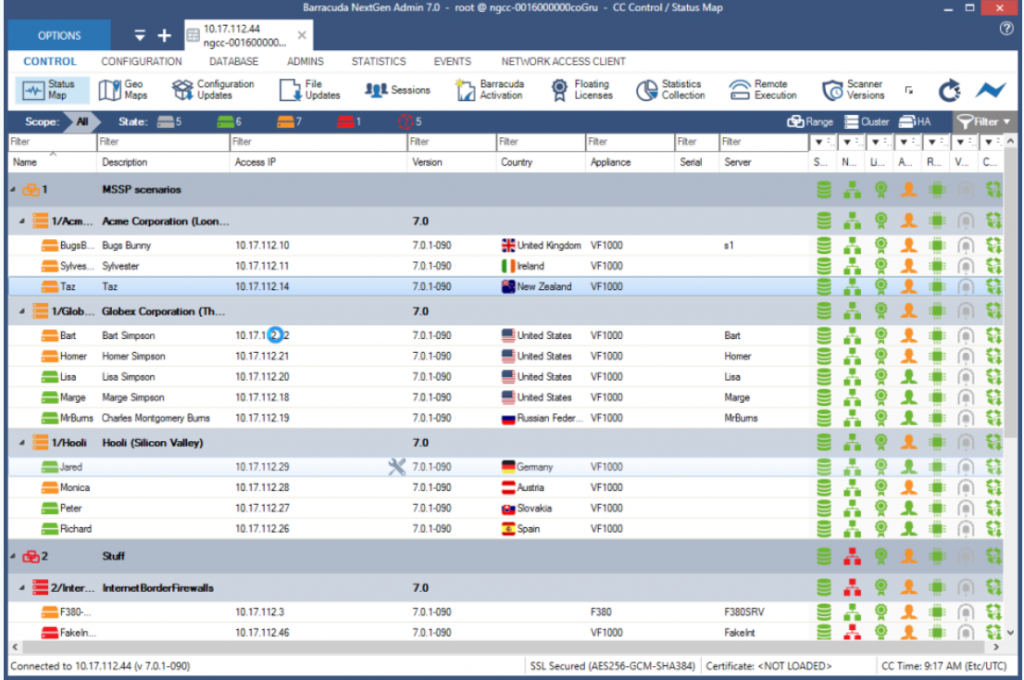 10.Barracuda NextGen Firewall.
Barracuda CloudGen Firewall is a family of hardware, virtual, and cloud-based appliances that protect and enhance your dispersed network infrastructure. Also, Barracuda CloudGen Firewall combines highly resilient VPN technology with intelligent traffic management and WAN optimization capabilities.